About
THE VOICE OF A WOMAN
WOMEN AS AGENTS OF SOCIAL CHANGE
women impacting culture, society + our world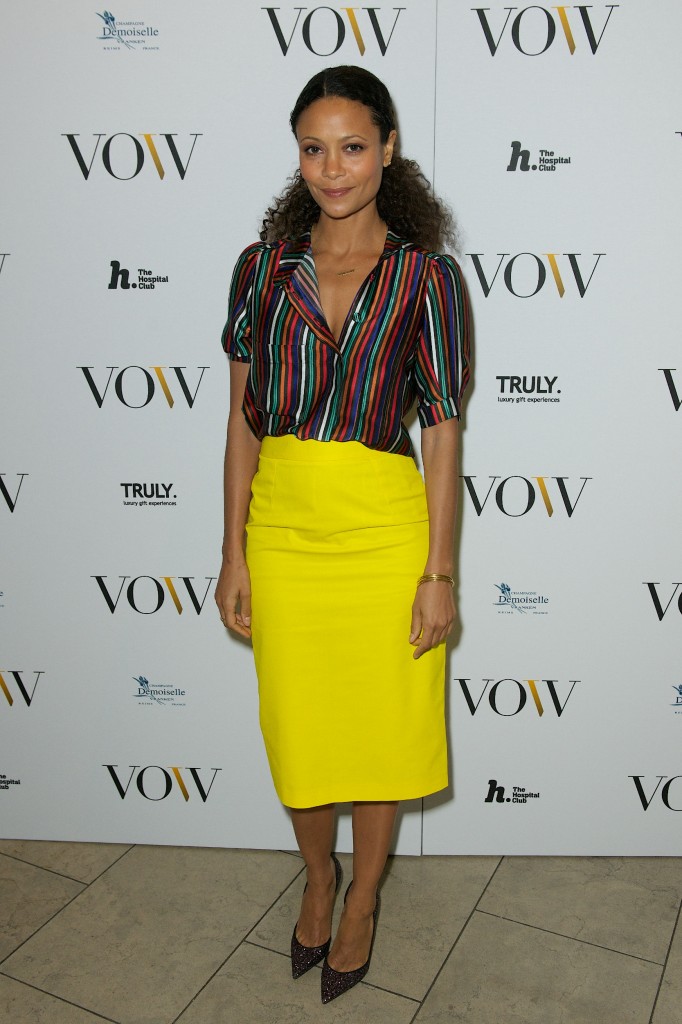 Actress Thandie Newton recipient of THE VOICE OF A WOMAN AWARD 2013
THE VOICE OF A WOMAN and its Leadership & Social Responsibility Programmes work globally to inspire and empower women and girls - to have them realise their full potential. We believe passionately in the power of positive role models to inspire the next generation; to shift perspectives; and to ignite that spark that can transform lives.
Our Voice Of A Woman As Agent of Social Change Program provides mentoring from women leaders across a variety of fields. With the assistance of mentors, our programmes coach mentees to realise their vision - what they see possible in their lives and the impact of their vision in our world. Within our programmes mentees are set the challenge and coached to develop and lead projects aimed at making a difference in communities of greatest need globally.
VOICES OF WOMEN TALKS - VOW TALKS
VOW TALKS are a series of live talk events, articles, film and audio conversations featuring some of the most visionary women leaders in our world today, sharing with audiences their thoughts, perspectives, knowledge and experiences.
To date speakers have been:
Germaine Greer - Author
Dr. Scilla Elworthy - Founder of Peace Direct & Advisor to the Elders
Thandie Newton - Actress, Campaigner to End Violence Against Women & Girls
Jane Martinson - Guardian, Women's Editor
Gillian Tett - Author & Former Editor of the US Financial Times
Zoe Wanamaker CBE - Actress, Philanthropist/Humanitarian
Helen Lewis - Managing Editor of the New Statesman
Lisa Gormley - Legal Advisor to Amnesty International on Women's Rights & Intl. Law
Gerry Lejeune, OBE - Founder of Women's Aid
Maggie Baxter OBE - Philanthropist
Nichola Benedetti - Violinist, Educator
Nadjia Al-Ali - Scholar, Author
VOICE OF A WOMAN works internationally to empower women in countries of greatest need. We believe that by supporting the development of women's leadership, in countries where women's leadership will have a far reaching impact, we have the potential to break the cycles of conflict (e.g. Liberia, please see our article on Nobel Peace recipient Leymah Gbowee), poverty, exploitation and greed.
Our aim is to empower mothers to generate sustainable incomes to feed and educate their children who will in turn create better futures for their families and communities. To date we have worked in South Africa, Uganda and with the Maasai in Tanzania.
THE VOICE OF A WOMAN AWARDS
VOW AWARDS 2013
THE VOICE OF A WOMAN AWARDS Reception and Dinner was held on 2nd July 2013, to acknowledge the life and work of Dr. Scilla Elworthy PhD.  Dr. Elworthy is Founder of the Oxford Research Group created to develop effective dialogue between nuclear weapons policy-makers worldwide and their critics, work which produced a series of dialogues between Chinese, Russian and western nuclear scientists and military, and for which she was awarded the Niwano Peace Prize in 2003 and was three times nominated for the Nobel Peace Prize.  Dr. Elworthy founded Peace Direct in 2002 to fund, promote and learn from local peace-builders in conflict areas.  She was advisor to Richard Branson, Peter Gabriel and Dr. Desmond Tutu in the setting up of The Elders.
Maureen A. Bryan, Founder of THE VOICE OF A WOMAN, presented Dr. Elworthy with a LIFETIME ACHIEVEMENT AWARD.
Jane Martinson, Women's Editor of the Guardian, presented British actress Thandie Newton with Voice Of A Woman As An Agent of Social Change Award, for raising her 'voice' as part of a global campaign to bring awareness to violence against women and girls.
VOW AWARDS 2012
In 2012 THE VOICE OF A WOMAN AWARDS were held at the National Portrait Gallery, as part of the London Cultural Olympiad, just three days before the opening of the London 2012 Olympic Games.  The Awards ceremony acknowledged the career and work of actress Zoe Wannamaker CBE and her  countless works to make a difference globally.  Our THE NEXT GENERATION AWARD was awarded to the extraordinary talent of the young Scottish violinist Nicola Benedetti.
YLSR - YOUTH LEADERSHIP & SOCIAL RESPONSIBILITY PROGRAMMES
THE VOICE OF A WOMAN and its Youth Leadership & Social Responsibility Programmes are committed to inspiring and empowering the next generation of 'social change agents' to realise the potential of their leadership to make a difference not only in their own lives but in their communities, society and our world.
VOW ARTS
VOW ARTS have exhibited the works of some the world's leading female artists, to date featuring:
Tara Todras Whitehall - Photojournalist (Associated Press Photographic Exhibition)
Kim Longinotto - Documentary Filmmaker: Pink Saris
Jennifer Siebel Newson - Documentary Filmmaker: Miss Representation (Film Screenings)

THE VOICE OF A WOMAN - WOMEN'S COOPERATIVE works on a variety of projects each year aimed at empowering women.  In 2014 we launch the MAKEUP TO MAKE A DIFFERENCE PROJECT with various makeup and skincare brands aimed at tapping in to the power of the Women's wellbeing and beauty business to support women's empowerment.  To attend our events and for more information please email maureen@thewomenscoop.com

For more information please email: contact@thevoiceofawoman.com
VOICE OF A WOMAN is a Community Interest Company that delivers international leadership and social responsibility projects, through YLSR - Int. Youth Leadership & Social Responsibility, a charity registered in England and Wales No.: 1137130.
Maureen A. Bryan - Founder