ABOUT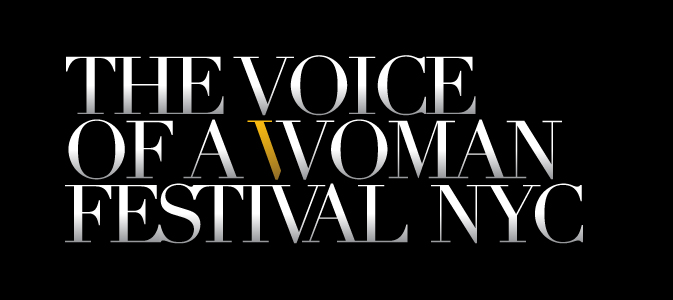 THE VOICE OF A WOMAN

"Changing The Conversation"
Since 2009 THE VOICE OF A WOMAN has presented the works of both established and emerging women in film, and the arts internationally, exploring the creativity, experiences and storytelling of women globally.
THE VOICE OF A WOMAN | FESTIVAL
Each year THE VOICE OF A WOMAN FESTIVAL presents a bold and innovative program, featuring creative leaders and risk-takers, from around the world, with an original and unique individual Self-expression. THE VOICE OF A WOMAN's mission is to bring women artists, humanitarians, thought leaders, innovators and storytellers to audiences in new and exciting ways.
THE VOICE OF A WOMAN | TALKS
THE VOICE OF A WOMAN | TALKS (VOW TALKS) are a series of 'in-conversations' and Q&A's with artists, activists, humanitarians, leaders, innovators, communicators and storytellers.  VOW | TALKS plays an integral role, as our central activity and as part of our international traveling series throughout the year.
We believe that film and the arts have the power to influence and drive social and cultural change: as a platform for a diversity of voices, stimulating discourse, bringing awareness to international social justice, civil and human rights concerns; as a vehicle to showcase original and often marginalized voices; as a forum for information-sharing; and as a catalyst sparking creativity and innovative ideas among creative practitioners.
The following are some of the women that have engaged in THE VOICE OF A WOMAN | TALKS in London and New York over the years:
2016 - Shola Lynch - Director

2016 - Michaela Angela Davis - Cultural Critic
2016 - Resh Sidhu - Virtual Reality Pioneer
2016 - Amy Fox - Screenwriter
2016 - Alysia Reiner - Actress
2016 - Wendy Ettinger - Producer
2016 - Christine Turner - Director
2016 - Thati Peele - Director
2016 - Saya Woolfalk - Artist
2015 - Kim Longinotto - Director
2015 - Naomie Harris - Actress
2015 - Deeyah Khan - Director

2015 - Sylvia Syms OBE - Actress
2015 - Esther Anderson - Actress + Director
2015 - Kate Blewitt - Director
2014 - Dr. Scilla Elworthy - Activist/Writer
2013 - Thandie Newton - Actress
2013 - Germaine Greer - Author
2013 - Gillian Tett - Former Editor - US Financial Times
2013 - Karen Blackett - CEO MediaCom
2013 - Jane Martinson - The Guardian, Women's Editor
2013 - Gillian Joseph - Sky News Presenter
2013 - Natasha Pearlman - Deputy Editor, Elle Magazine
2013 - Helen Lewis - Managing Editor of the New Statesman

2012 - Dr. Scilla Elworthy - Founder of Peace Direct
2012 - Maggie Baxter OBE - Humanitarian
2012 - Zoe Wanamaker CBE - Actress
2012 - Nicola Benedetti - Violinist
2012 - Gerry Lejeune OBE - Founder of Women's Aid
2012 - Dr. Nadja Al-Ali - Scholar
2012 - Dr. Scilla Elworthy - Founder of Peace Direct


THE VOICE OF A WOMAN | EXHIBITIONS

2011 - "Intended Consequences"
In Partnership with: Getty Images | Associated Press | Foreign Press Association |
Amnesty International
THE VOICE OF A WOMAN | Photographic Exhibit
2011 - Tara Todras Whitehall - International Photojournalist
Associated Press, New York
THE VOICE OF A WOMAN | Photographic Exhibit

2011 - Samar Hazboun - International Photojournalist
THE VOICE OF A WOMAN | Photographic Exhibit

For more information please email: contact@thevoiceofawoman.com
Producer/Curator: Maureen A. Bryan