GIRLS AS AGENTS OF SOCIAL CHANGE MENTORING PROGRAMME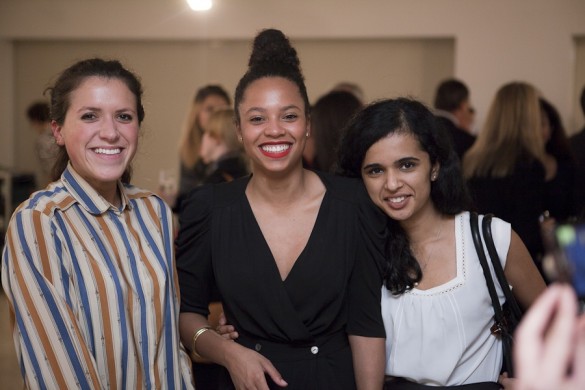 In 2012 VOICE OF A WOMAN launched its WOMEN AS AGENTS OF SOCIAL CHANGE MENTORING PROGRAMME.  The programme has senior professional women coach girls in their final years of secondary school in the creation and development of projects aimed at making a difference in their communities or in communities of greatest need in the world.
Over the course of 7 months students have been immersed in training, attending the VOW TALKS SERIES to be inspired by featured speakers.  Among the speakers who have participated in the VOW TALKS SERIES have been: Dr. Scilla Elworthy - three time Nobel Peace Prize Nominee; Lisa Gormley - Legal Advisor to Amnesty International on Women's Rights; Germaine Greer - author; Jane Martinson - Women's Editor of the Guardian; Gillian Joseph - SKY News Presenter; Natasha Pearlman - Managing Editor of Elle Magazine; Karen Blackett - CEO of MediaCom; Simone Forster - Senior Partner of JWT London, Inga Beale - CEO of Canopius Group and others.
Mentors have taken students on an exploration of women's leadership to discover extraordinary women in the world and understand the journeys that have led to their achievements.  Through this process students have come to understand the characteristics of strong leadership, while honing in on their own unique self-expression and vision, as well as developing the skills to be able to communicate their visions for our world and our future.  What has emerged as a result has literally brought tears to my eyes.
I am so very proud of the graduates of this programme.  Their projects are extraordinary.  One young woman's project aims to work with the victims of Acid Attacks, another to build a campaign to further awareness among young girls in her culture of Female Genital Mutilation, another working with youths in her community to build peace bring an end to knife crime and violence - these are just a few of the projects that have emerged from the programme.
It has been a priviledge to see these girls grow, become empowered and find their own unique 'voices.'  It is for this reason that VOICE OF A WOMAN and Youth Leadership & Social Responsibility was created, to inspire and empower the next generation to build a better future.  It is critical for the journey ahead that we take the time now to plant the seeds of leadership and social responsibility in the next generation of social change agents - our future depends on it.

Maureen A. Bryan
Founder
VOICE OF A WOMAN
YLSR - Int. Youth Leadership & Social Responsibility