Anjelina Jolie's Campaign to End Sexual Violence Against Women and Children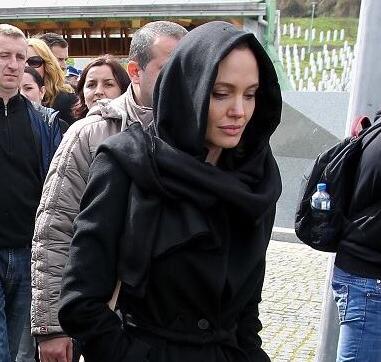 In Sarajevo at a conference on sexual violence in war, actress Angelina Jolie urged the international community to stop the use of sexual violence as a weapon of war.
Jolie, whose 2011 directorial debut In the Land of Blood and Honey dealt with violence against women during Bosnia's war, urged peace missions around the world to make combating sex crimes a priority.
"The use of rape as a weapon of war is one of the most harrowing and savage of these crimes against civilians," Jolie told the conference in Bosnia's capital.  "This is rape so brutal, with such extreme violence, that it is even hard to talk about it," said the 38-year-old actress, who is a goodwill ambassador for the UN's refugee agency.
Around 20,000 women, mostly Muslim, were raped during Bosnia's inter-ethnic war in the 1990s, according to local estimates. So far only 33 people have been convicted for the crimes.  Jolie left later on Friday for Srebrenica to pay respect to the victims of genocide committed in the eastern town near the end of the 1992-1995 war.
After capturing Srebrenica on July 11, 1995, Serb forces executed some 8,000 Muslim men and boys in the worst atrocity committed in Europe since World War II.  More than 6,000 massacred victims, whose remains were found in mass graves, were laid to rest at a memorial cemetery in the town.  Bosnia's war between its Croats, Muslims and Serbs claimed some 100,000 lives. secure web browser broken links test