DIARY OF A TEENAGE GIRL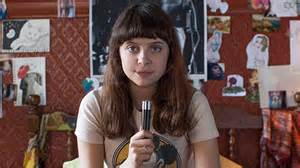 Being a teenager is about testing the boundaries, venturing into the darkness and seeing just how far you can go until something bad happens. Knowing those limits is part of what shapes us as adults, and I've never seen that process illustrated as well as in The Diary of a Teenage Girl. Considering the film is set in the counter-culture of San Francisco in the 1970s, there was ample darkness for a girl to get into.
The movie wades right in with 17-year-old Minnie (Benidorm star Bel Powley) starting a sexual relationship with her mother's boyfriend, Monroe (Alexander Skarsgård). It carries on far longer than it should, him egging her on as she's pushing him away. It's not helped by Minnie's mother (Kristen Wiig), who parties alongside her daughter and tacitly condones her pot, alcohol and cocaine use, but is simultaneously threatened by her daughter's blossoming sexuality. Minnie gets into all sorts of trouble all over town, but she keeps coming back to Monroe, convinced that they can somehow make their obviously inappropriate relationship work.
First time writer/director Marielle Heller, adapting the novel by Phoebe Gloeckner, does a good job with the story, but also offers a fair bit of visual ingenuity. Minnie wants to be a cartoonist and draws constantly, her pictures embellishing the footage in spectacular and subtle ways and her comic strips becoming full-on animation. It's less whimsical than it seems, especially when used sparingly. The rest of the film has a sort of haze over it, like old Polaroid snapshots or the best Instagram filter for any Throwback Thursday photo you post from your youth.
But it's Minnie's story that is captivating, made even better by a naked performance, literally and figuratively, by Powley. Is it her ill-advised (and possibly abusive) first sexual experience that forms her, is it her mother who fancies herself a feminist but competes with women for men's attention, is it the drugs, is it her sexually-progressive friend Kimmie (Madeleine Waters), is it the 70s, is it underground comics, is it San Francisco, is it just hormones? No, it's all of those things. And this is the rare movie that realises that individuals are the sum of formative experiences – some good, some bad, and some productive in their devastation.