DIRECTOR: AGNES VARDA
Comments Off

on DIRECTOR: AGNES VARDA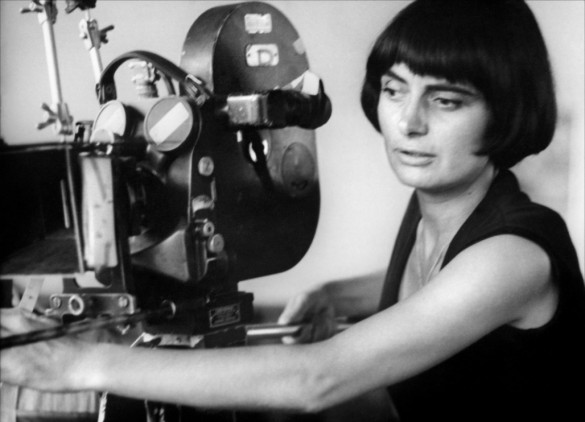 Agnes Varda at 88 years old won Festival de Cannes Golden Eye Prize, or L'Oeil d'Or for her documentary film FACES PLACES (Visages Villages). The Golden Eye, L'Oeil d'Or, is awarded to the best documentary across all official selections by the French Writers Society.
FACES PLACES (Visages Villages) by Agnes Varda and JR, a graffiti artist and street photographer, is a documentary film journeying through rural France photographing and interviewing rural and working-class people, factory workers, cheese makers, truck drivers. It's a beautiful portrait of working-class rural French life, and the images that emerge from it are moving. Faces Places is a celebration and appreciation of the salt of the earth honest hard working folk that remind us of the truth of life, steering far away from the toxic and soul destroying illusion of celebrity and ultimately all things 'fake.'
Agnès Varda's films, photographs, and art installations focus on documentary realism and social commentary — with a distinct experimental style. She is a significant figure in modern French cinema. Her career pre-dates the start of the Nouvelle vague (French New Wave), and La Pointe Courte contains many elements specific to that movement. In an interview with The Believer, Varda stated that she wanted to make films that related to her time (in reference to La Pointe Courte), rather than focusing on traditions or classical standards. In 1977, Varda founded her own production company, Cine-Tamaris, in order to have more control on shooting and editing.
The French New Wave movement was broken into two subgroups: the Cahiers du Cinema group and the Left Bank Cinema group. Because of her literary influences, and because her work predates the French New Wave, Varda's films belong more precisely to the Rive Gauche (Left Bank) cinema movement, along with Chris Marker, Alain Resnais, Marguerite Duras, Alain Robbe-Grillet, Jean Cayrol and Henri Colpi. The group was strongly tied to the nouveau roman movement in literature and politically was positioned to the Left. Its members would often collaborate with each other.
Varda's work is often considered feminist because of her use of female protagonists and creating a female cinematic voice. Many of her films use protagonists that are marginalized or rejected members of society, and are documentarian in nature.
Like many other French New Wave directors, Varda was likely influenced by auteur theory, creating her own signature style by using the camera "as a pen." Varda describes her method of filmmaking as cinécriture (cinematic writing or "writing on film"). The term was created by merging "cinema" and "writing" in French. Rather than separating the fundamental roles that contribute to a film (cinematographer, screenwriter, director, etc.), Varda believes that all roles should be working together simultaneously to create a more cohesive film, and all elements of the film should contribute to its message. She claims to make most of her discoveries while editing, seeking the opportunity to find images or dialogue that create a motif.
Because of her photographic background, still images are often of significance in her films. Still images may serve symbolic or narrative purposes, and each element of them is important. There is sometimes conflict between still and moving images in her films, and she often mixes still images (snapshots) in with moving images. Varda pays very close attention to detail and is highly conscious of the implications of each cinematic choice she makes. Elements of the film are rarely just functional, each element has its own implications, both on its own and that it lends to the entire film's message.
Many of her influences are artistic or literary. Some of her influences include: Surrealism, Franz Kafka, and Nathalie Sarraute.
La Pointe Courte - 1954

After spending a few days filming the small French fishing town of La Pointe Courte for a terminally ill friend who could no longer visit on his own, Varda decided to shoot a feature film of her own. Thus in 1954, Varda's first film, La Pointe Courte, about an unhappy couple working through their relationship in a small fishing town, was released. The film is a stylistic precursor to the French New Wave. At the time, Varda was influenced by the philosophy of Gaston Bachelard, whom she once studied under at the Sorbonne. "She was particularly interested in his theory of 'l'imagination des matières,' in which certain personality traits were found to correspond to concrete elements in a kind of psychoanalysis of the material world". This idea arrives in La Pointe Courte as the characters' personality traits clash, shown through the opposition of objects such as wood and steel. To further her interest in character abstraction Varda used two professional actors, Silvia Monfort and Philippe Noiret combined with the residents of La Pointe Courte to provide a realistic element that lends itself to a documentary aesthetic, inspired by Neo-realism. Varda would continue to use this combination of fictional and documentary elements in her films.
Cléo from 5 to 7 - 1961

Following La Pointe Courte, Cléo from 5 to 7 (1961) follows a pop singer through two extraordinary hours in which she awaits the results of a recent biopsy. At first glance, the film is about a woman coming to terms with her mortality, which is a common auteurist trait for Agnès Varda.On a deeper level, Cléo from 5 to 7 confronts the traditionally objectified woman by giving Cleo her own vision. She is unable to be constructed through gaze of others which is often represented through a motif of reflections and Cleo's ability to strip her body of to-be-looked-at-ness attributes (clothing items, wigs, etc.). Stylistically, Cléo from 5 to 7 borders documentary and fiction as La Pointe Courte had. Although many believe that the ninety-minute film represents the diegetic action, which occurs between 5 p.m. and 7 p.m., in real time, there is actually a half-hour difference.
Vagabond - 1984

In 1984, Varda created Sans toit ni loi, or Vagabond in English, which is a drama about the death of a young female drifter named Mona. The death is investigated by an unseen and unheard interviewer who focuses on the men who have last seen her. The story of Vagabond is told through nonlinear techniques, with the film being divided into forty-seven episodes, and each episode about Mona being told from a different person's perspective. Vagabond is considered to be one of Agnès Varda's greater feminist works in how the film deals with the de-fetishization of the female body from the male perspective.
Jacquot de Nantes - 1991

Varda was married to the film director Jacques Demy from 1962 until his death in 1991, with whom she had one child, actor Mathieu Demy. Jacques Demy also legally adopted Rosalie Varda, Varda's daughter from a previous union with actor Antoine Bourseiller, who starred in her early film Cléo from 5 to 7. In 1991, Shortly before Jacques Demy's death, Agnès Varda created the film Jacquot de Nantes, which is about his life and death. The film is structured at first as being a recreation of his early life, being obsessed with the various crafts used for filmmaking like animation and set design. But then Varda provides elements of documentary by inserting clips of Demy's films as well as footage of him dying. The film continues with Varda's common theme of accepting death, but at its heart it is considered to be Varda's tribute to her late husband and their work.
The Gleaners and I - 2000

Les Glaneurs et la Glaneuse, or The Gleaners and I, is a documentary made in 2000 that focuses on Varda's interactions with gleaners who live in the French countryside, but also includes subjects who create art through recycled material, as well as an interview with psychoanalyst Jean Laplanche. The Gleaners and I is notable for its fragmented and free-form nature along with it being the first time Varda used digital cameras. This style of filmmaking is often interpreted as a statement that great things like art can still be created through scraps, yet modern economies encourage people to only use the finest product.