CHLOE ZHAO | DIRECTOR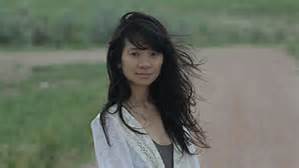 In Conversation with Director Chloe Zhao about her debut feature film "Songs My Brother Taught Me":

"Songs My Brothers Taught Me" is a contemplation of the time I spent on the Pine Ridge Indian Reservation during the four years of making this film.
One of the most common questions people ask when they hear about some of the difficulties facing Pine Ridge is "Why don't they just leave? If life is hard, why don't they just leave the reservation and go somewhere else?" When considering how frequently I have moved around in my own life, I must confess that at times I have often wondered the same thing. I was born in Beijing and left home when I was fourteen, and have been moving from place to place ever since. As a result, there isn't one particular place in the world from which I cannot just uproot myself and leave behind. 'Home', to me, feels like only a concept, and I find myself often exploring its meaning in my films and writing.
During my time on Pine Ridge, as I became friends with some of the Lakota people living there, I became increasingly intrigued and almost envious of the deep connection they have to their homes, families, communities and their land. This bone-deep attachment also has its consequences, and over time I also became aware of the various struggles and isolation they face because of it. I found this very simple question, has an increasingly complicated answer, one that I find difficult to express in words. So in many ways I made "Songs" to explore this question – "how do you leave the only place you've ever known?"
Set against the backdrop of the Badlands and the Great Plains of South Dakota, "Songs" is also a kind of poem dedicated to my love for this wild, magnificent, yet marginalized piece of the American west. I went into production with a tight budget, only a treatment and without a script, writing every morning for the scenes we were to shoot on that particular day. This approach has many challenges, yet many advantages since unlike in most conventional narrative shoots, my team and I were able to have the flexibility to incorporate real-life events as they occurred. We were completely indebted to our cast and friends on Pine Ridge, most of them were acting for the first time, and were born, raised and residing on the reservation. They trusted us completely, and welcomed us into their homes and their lives. The film would certainly not have been possible without their kindness and support.
This trust touched on every aspect of the shoot. Sadly, during production, the childhood home of one of our leads (thirteen year old Jashaun) was burned down in a snowstorm. After much reflection, and talking with Jashaun and her family, I decided to rewrite the script and reshoot scenes, incorporating this event into her character's story. We filmed Jashaun seeing the ruins for the first time, and what was at first supposed to be a brief pickup, developed into something more as Jashaun decided to keep going, searching in the ashes as she tried to recover her things that were lost in the fire. Everyone present was moved by her strength and resilience, and to me, in that very heartbreaking forty-five minutes, I was only there to document the action, and simply observe as Jashaun and her life presented me with the story it wished to tell.
"Songs" is not a generalized representation of Pine Ridge. There simply are not enough films made about this place and these people. As a result, the ones that are made often end up being used to generalize the community – something our mainstream media has done in its appropriation of Native Americans for a long time. This needs to change. My hope is for the audiences to leave the theater feeling that they have gotten to know a group of very complex characters and to have a glimpse into just how diverse and vivacious the Lakota people of Pine Ridge really are, instead of the two dimensional stereotypes we often see represented in today's dominant culture.
The making of "Songs" was a family affair and it has changed me in many ways. For me, filmmaking will always be driven by my desire to learn about the world I'm not familiar with. Sometimes on that journey, I also get to rediscover who I am. I will always be grateful for my friends on Pine Ridge for giving me that opportunity and for showing me a different way of life."
REVIEW:
Chloe's debut feature, "Songs My Brothers Taught Me," is a very low-key portrait of life on South Dakota's Pine Ridge Indian Reservation. The drama arrives close on the heels of Anna Eborn's "Pine Ridge," an intriguing documentary a glimpse at contemporary Lakota Nation residents.
High schooler Johnny Winters (John Reddy) and 11-year-old Jashaun (JaShaun St. John) live at home with their single mother, Lisa (Irene Bedard); an eldest son is in prison. But they have many, mostly unknown half-siblings by the father they never met — a famous rodeo cowboy who sired at least 25 kids by nine or so "so-called wives." At the pic's start, the brothers learn he's just died a predictable drunkard's death in an accidental fire. So it's ironic, perhaps (if also somewhat predictable), that Johnny is making money home-delivering booze for entrepreneur Bill (Allen Reddy), a trade that's illegal given that tribal law prohibits alcohol — the destroyer of many generations' lives on the reservation.
Any other work is scarce, and Johnny needs to save up some cash: He's planning to follow his college-bound girlfriend, Aurelia (Taysha Fuller), to Los Angeles, though he hasn't yet told his mom or sister. When the latter overhears him talking about it, she's understandably alarmed at the notion of being left alone with their remorsefully hard-drinking mother and her latest bad-news boyfriend. JaShaun goes searching for possible substitute father/big-brother figures, making a tentative selection in kindly if hapless tattoo/clothing designer Travis (Travis Lone Hill), to whom she appoints herself an assistant. But he may require adult supervision more than she does.