DADS WHO PLAY BARBIE DIR: KAREN CUNNINGHAM
Comments Off

on DADS WHO PLAY BARBIE DIR: KAREN CUNNINGHAM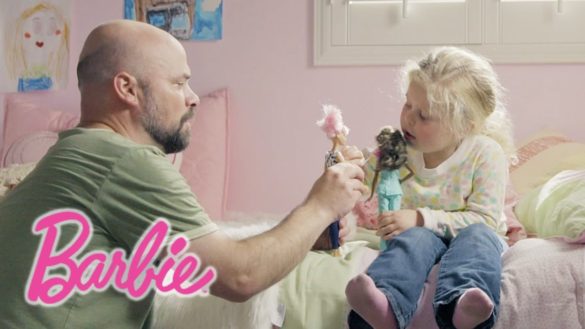 DADS WHO PLAY BARBIE
VOWSS 2017
CANNES LIONS FESTIVAL OF CREATIVITY
A group of dads describe the significant benefits of spending quality time playing Barbie with their daughters.
KAREN CUNNINGHAM - Director
Karen Cunningham's first commercial which she wrote and directed won a Silver at the British Arrows. She has also won three best new director awards including the YDA Shots Award. Her work for save the children won a Silver at Creative  Circle and was featured in The APA  Collection. Karen's Barbie commercial "Imagine The Possibilities" has won awards including a Silver Lion at Cannes, AICP, ADC Silver, YouTube Ad of the Year, People's Choice Webby Award and nominated for Best Director at The British Arrows Craft Awards .
Client: Mattel/Barbie
Ad Agency: BBDO SF
Karen Cunningham - Director "Dads Who Play Barbie" for Slim Pictures.
Whitney Ferris - Senior Agency Producer at BBDO SF.
Rachael Kelly - Art Director at BBDO SF.
Taylor Garrett - Copywriter at BBDO SF.
Christina Whalen - Associate Creative Director/Art Director at BBDO SF.