VOW ART ::: MARY KELLY
Comments Off

on VOW ART ::: MARY KELLY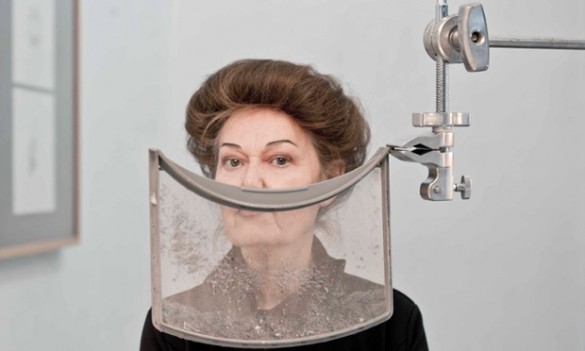 MARY KELLY | ARTIST | THE VOICE OF A WOMAN
"It's good to have a vision. Even if it's flawed, or turns out to be not what you expected." Mary Kelly would know. As one of the world's foremost feminist artists, she has pursued hers relentlessly for 45 years. It gives her a long view of the feminist movement that is refreshingly upbeat. "Something very wonderful has happened. If you look at how men engage with their children, it's totally different. My husband Ray was the only man with a child in a backpack at the big demonstrations in the 70s. He used to get wolf-whistled picking our son up from school."When she started out, just getting heard required a shock to the system. In the mid-70s, her installation at the ICA, Post-Partum Document, analysed her newborn son's development, their emotional bond, his early attempts at writing – and framed and hung his stained nappies on the gallery walls. "On display at the ICA … dirty nappies!" ran the Standard's outraged headline.
But Kelly was less interested in provoking the tabloids than adding a new voice to conceptual art. Something was missing, she felt, from the work made by these mostly male Americans up to that point. Her companion piece Antepartum, a looped film of her pregnant abdomen with her child kicking beneath the skin, hammered this point home. Today, it's shown alongside minimalists such as Richard Serra or Donald Judd, only hers is a minimalism with a human relationship at its core.
It may have been Kelly's education that led her to challenge the establishment. She began conventionally, studying painting outside Florence. But her first job was in Beirut at the American-Lebanese University, where she met francophone intellectuals and pored over the ideas of Sartre and Lacan. When war arrived in Lebanon, she moved to Paris, just in the time for the protests of '68. From there to London, for postgrad work at St Martin's art school. The atmosphere in London added the final piece of her radical makeup: she joined a commune, met her husband Ray, also an artist, and entered the women's movement – an experience she describes as utterly transformative.
Today she and Ray share an immaculate white house in the hills of Bel Air. They greet us at the door, and she surprises the photographer by taking his hand to show him around. I follow Ray into the living room, which looks like a fine exhibition of Bauhaus furniture. They bought the place when Mary became a professor at UCLA.
Kelly does not conform to any cliche of a radical feminist. She has a zen-like calm. She speaks quietly, with sentences punctuated only by a persistent, but rather elegant, cough. Her hair is arranged in a beautiful crown, like something a Dutch master would paint. Now in her 70s, she remains cutting-edge, and speaks fluently of social media, screengrabs and drone warfare. Perhaps her only tell is the critical theory that peppers her speech. The Post-Partum work was "overdetermined", she says, by her pregnancy during an earlier work, Nightcleaners – a study of the women cleaning London office buildings. The groups involved in that project give a real flavour of the time. She was part of a women's-lib cadre called the History Group, and was assigned to work with the Berwick Street film collective to support unionisation. Nightcleaners was intended as a propaganda film, but became a seminal work of documentary art.
"The women took those jobs because they had to look after the children during the day. That began what we called the sexual-social division of labour that underpinned inequality." But Kelly felt that the male-dominated labour movement was failing to see the real issue. "It wasn't as simple as having someone else take care of the children. You had to understand what the pleasure was in the relationship with the child."
She seized on the idea of non-essentialist feminism, that a woman's place shouldn't be physically determined, but created by her experiences. The Post-Partum Document is an analysis not just of all a mother is, but the process by which she becomes those things. Suddenly those dirty nappies seem less shock tactic and more reality check.
Kelly's work has always retained its personal, emotional payload. For some years, her primary medium has been lint – you know, from a tumble dryer. Like the dirty nappies, the material can seem like an invitation to scoff, but it's designed to emphasise the workaday. Dryer lint is, of course, more familiar to most people than bronze, canvas or oils. The sad humour is there, too: she uses the fluff to make ephemeral war memorials, which often display the words of victims of violence. Kelly is painstaking in her attempts to articulate these voices. In a recent work, Dicere, she prints the testimony of two Afghan children whose grandmother was killed in a drone attack. "They had these phrases that you couldn't translate easily from the Urdu," she says. "Like, 'She was the string that holds pearls together.' The language does something very important to me.''
Her larger lintworks require 10,000 cycles of the dryer. I imagine a team of assistants manning banks of machines, but Kelly corrects me. "I wish there were," she says, "but it's just a peculiarity of this one" and she points to the laundry room just beyond her studio.
I ask her if it's all been worthwhile. Despite the protest movement, decades of political art and legislation, perhaps the victims of injustice have merely changed. If she were to make Nightcleaners now, wouldn't the people be immigrants, lower paid, and no closer to unionisation? "Well, nothing is ever finally solved," she says. "One would be crazy to think so.