"TANIA LIBRE" – CUBAN ARTIST TANIA BRUGUERA
Comments Off

on "TANIA LIBRE" – CUBAN ARTIST TANIA BRUGUERA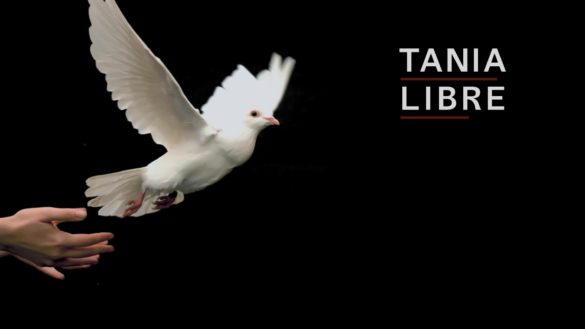 THE VOICE OF A WOMAN FILM FESTIVAL
TANIA LIBRE - CUBA (64 mins)
Documentary - Cuba, USA
SATURDAY NOVEMBER 4TH
THE PALEY CENTRE FOR MEDIA
25 W52ND STREET, NEW YORK, NY 10019
LYNN HERSHMAN LEESON's documentary TANIA LIBRE on the controversial Cuban artist Tania Bruguera.
In December 2014, two weeks after President Obama's announcement of the United States' restoration of diplomatic relations with Cuba, Tania Bruguera announced her intention to restage her 2009 performance Tatlin's Whisper #6 in Havana's Plaza of the Revolution. Providing an open, uncensored platform for citizens to publicly express their views for a span of one minute, the performance was reconceived under the project title #YoTambienExijo (I Also Demand). Bruguera's efforts to realise the project were criticised by both the police and Cuba's National Council of the Fine Arts, and she was arrested before the performance could take place. After three consecutive detentions, Bruguera was held under house arrest without charges and her passport revoked for a period of eight months. Voices from the art world and beyond rallied to support her and the project throughout this period, during which many urgent discussions on censorship took shape.
Documenting the personal and emotional fallout of Bruguera's unjust detentions, Lynn Hershman Leeson observes the artist's sessions with psychiatrist Dr Frank Ochberg, one of the founding fathers of modern psycho-traumatology who helped first define Post Traumatic Stress Disorder. An intimate and profound discussion of family disorders and cultural trauma emerges as the film touches on the various ways in which censorship of both the family and society have come to shape Bruguera's aesthetic. Picking up threads from both the surreal injustices portrayed in Hershman Leeson's 2008 feature Strange Culture and her conversations with politically and socially-engaged artists in the more recent film ! Women Art Revolution, this new documentary registers a powerful dialogue between artists that underscores the importance of film as an empathic medium.
LYNN HERSHMAN LEESON - Biography
Lynn Hershman Leeson (born 1941, United States) is an artist and filmmaker. Over the last four decades, her work has been widely celebrated for its critical explorations of identity and proxies, privacy and surveillance, the interfacing of humans and machines and the relationship between real and virtual worlds. Her pioneering work developing the alter ego Roberta Breitmore (1974–8), interactive projects LORNA (1979–84) and Deep Contact (1984–9), artificial intelligence projects CybeRoberta (1995–2000), Agent Ruby (2001–present) and the recent experiment in genetic engineering Infinity Engine (2013–present) have challenged and expanded the fields of performance, installation and new media.
Hershman Leeson has also written, directed, edited and produced five previous feature films, including ! Women Art Revolution 2011, a look at how the American Feminist Art Movement has transformed art and culture, and Strange Culture 2008, Teknolust 2002 and Conceiving Ada 1997, three films in which she worked with actor Tilda Swinton. Hershman Leeson's work has been acquired by numerous public collections and was the subject of two recent retrospectives.
This presentation of Hershman Leeson's work in progress forms part of an ongoing dialogue between Tania Bruguera and Tate, following on from #YoTambienExijo: A Restaging of Tatlin's Whisper #6 in April 2015. The screening of Hershman Leeson's film precedes the forthcoming display of Tania Bruguera's action Tatlin's Whisper #5 2008 acquired by Tate in 2009. Two mounted police patrol the museum space, guiding and controlling the audience using crowd control techniques that are familiar to anyone who has attended a political demonstration.
SINGLE SCREENING TICKETS & DAY PASSES AVAILABLE - CLICK LINK BELOW
GO TO: https://thevoiceofawomantickets.eventbrite.com