AVA DUVERNAY & WOMEN IN FILM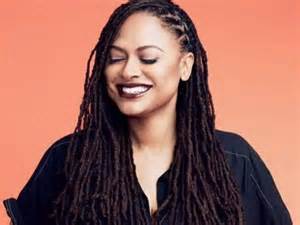 Increasing numbers of people — if mostly women — are pushing back hard at the industry's biases. And they're pushing back publicly. Some, like Geena Davis, are focusing on female representation in the media; others, like Maria Giese, a member of the Directors Guild of America, are going after their own organization. Gamechanger Films is practicing checkbook activism by funding female directors. The Sundance Institute and the advocacy group Women in Film have commissioned an important study for which researchers like Stacy L. Smith are crunching the numbers. Consider some recent findings: Only 4.4 percent of the top 100 box-office domestic releases between 2002 and 2012 were directed by women. In 2012, only 28.4 percent of all on-screen speaking characters in the top 100 were women. If you thought women in movies don't have much of a voice, you're right.
American commercial cinema has long been dominated by men, but I don't think there has ever been another time when women have been as underrepresented on screen as they are now. The biggest problem isn't genuinely independent cinema, where lower budgets mean more opportunities for women in front of and behind the camera. The refusal to hire more female directors has helped create and sustain a representational ghetto for women.
The barriers that female directors confront are numerous, substantial, structural and ideological, which is why activists are attacking biases on a number of fronts. Ms. Giese, for one, has turned her personal frustration over a stalled directing career into a veritable crusade. Her primary target has been her own organization, the Directors Guild, the labor group that represents more than 15,000 directors and directorial support staff working in movies, television, commercials, the news, sports and new media. In the 1930s, Dorothy Arzner became the Guild's first female member. Women now make up 22.5 percent of its membership — but only 13.7 percent are directors.
Among Ms. Giese's criticisms is how the Guild classifies women and male minorities under the general rubric of diversity, including in its latest contract, which stipulates that employers "shall work diligently and make good faith efforts to increase the number of working racial and ethnic minority and women directors." She writes on the blog Women Directors in Hollywood that companies that are Guild signatories can "fulfill their diversity obligations by hiring male ethnic minority members, and hiring no women at all." In a recent study, the Guild established that minority men directed 17 percent of the prime time episodic television produced from 2013-14, while white women directed 12 percent and minority women directed 2 percent. The numbers for both women and minority men are undeniably awful, and the industrious Tyler Perry might be pushing the numbers up for minority men.
I raised the issue of combining women and minority men with Paris Barclay, the president of the Directors Guild, noting that 23 percent of a recent season of the FX series "Sons of Anarchy" had been directed by a minority man — namely Mr. Barclay — while 8 percent (one episode) had a female director.
"Well, it's interesting," he said, speaking by phone. "I mean, on 'Sons' the No. 1 director was me, that's true. I'm a black, gay man, so I'm virtually a woman," he said with a laugh. "We're in a fight for hiring equity, and the work that it takes to break down these studio and network directing stereotypes requires advocating for all of our members," Mr. Barclay continued. "We really believe in this particular fight that solidarity is the way to go.
Solidarity is a seductive word, but it can also obscure the differences between sexism and racism. With rare exceptions, women of all colors were shut out of directing during the old Hollywood studio era, for instance. But some white women did work in executive suites and on sets, while many more worked as actresses, even as black and Asian women were relegated to invisibility or maid uniforms. Female filmgoers helped popularize movies and build a star system that, in turn, produced indelible images of women — along with stereotyped roles, the casting couch and the occasional suicide. There are still female stars, and most, alas, are still white, but actresses now often compensate for a lack of roles by playing the star on the red carpet and in the entertainment media.
Behind the parade of dazzling smiles and designer gowns is an industry that is failing women. The most visible proof is the limited roles for women, especially in top box-office releases. In 2004, Ms. Davis founded the Geena Davis Institute on Gender in the Media, an organization she runs with Madeline Di Nonno. They have raised awareness through educational campaigns, symposiums and deep-dive research. Among their findings is a statistic that many women know intuitively: Female directors and writers create more female characters than men do. That isn't the case with producers, which may be why there seem to be more high-profile female producers than directors.
An important partner in Ms. Davis's activism has been Dr. Smith, a researcher at the Annenberg School for Communication and Journalism, at the University of Southern California. Squirreled away in a media lab on the campus, Dr. Smith's team collects data that put the American movie industry's sexism into stark, empirical relief. The lab is modest, dominated by a narrow hallway crammed with computers and a room in which, the day I visited last fall, a handful of students were coding titles like "The Amazing Spider-Man 2," a painstaking process — each movie is checked by at least three people — that allows them to identify the gender breakdown in a movie, among other factors.
A few years ago, Cathy Schulman, the president of Women in Film, and Keri Putnam, the executive director of the Sundance Institute, joined forces with Dr. Smith for a three-part study on female directors. "Exploring the Barriers and Opportunities for Independent Women Filmmakers," conducted by Dr. Smith, Katherine Pieper and Marc Choueiti at Annenberg's Media Diversity and Social Change Institute looks at gender differences at Sundance's film festival and its filmmaking labs from 2002 to 2013. Sundance has been, for good reason, widely viewed as more welcoming to women: During the study's period of research, women directed about a quarter of the movies in the high-profile dramatic competition, far more than they did in the top 100 box-office releases.
There is a multitude of reasons female directors struggle, from the legacy of the historically male-dominated Hollywood to, as Kim Gordon once suggested, a fear of a female planet. Women fare fine in some areas, including in film schools. In 1998, Martha M. Lauzen, who tallies women working behind the scenes in her annual report, "The Celluloid Ceiling," found that women composed from one-third to over one-half of the students at the schools she surveyed. More recently, I checked in with six film schools, including Columbia University and the University of California, Los Angeles, and found that women were consistently well represented. The problems happen later.
Ms. Schulman said that there's "an absolute decrescendo of opportunity for women as the economics crescendo." The third part of the Women in Film/Sundance study, which will be previewed at Sundance on Monday, takes a closer look at early careers and why it's hard for female filmmakers to make second and third movies that are either independently or institutionally funded. "Women are treated more equally in the independent sector," said Kimberly Peirce, who went through Sundance's directors and screenwriters labs with "Boys Don't Cry" her 1999 feature debut, and whose second feature, "Stop-Loss," was released nine years later. "You don't have histories of employment, you don't have tendencies. You've just got a story — let's tell it. You're less encumbered by presuppositions."
The equity fund Gamechanger Films is bypassing those assumptions by tapping investors to bankroll female directors. This for-profit was founded in 2013 by four independent producers — Julie Parker Benello, Dan Cogan, Geralyn Dreyfous and Wendy Ettinger — who were moved to action around the same time as the Women in Film and Sundance research was gearing up.
"Our contribution," Mr. Cogan said, "was to say that the way you address this problem is money. It's about access to capital for women directors. That's it. It's not about mentorship. It's about putting the money on the table and giving it to women." To that end, Gamechanger focuses on commercial projects across a variety of genres. One of its recent titles is a forthcoming thriller, "The Invitation" from Karyn Kusama, who broke out with the indie favorite "Girlfight," stumbled in the commercial mainstream ("Aeon Flux") and has now re-entered the indie fold.
Money will only go so far. Minds need to change and, more radically, filmmaking values and habits. Even as women have directed more movies, the profession remains heavily coded as masculine, from its white-collar male auteurs to its blue-collar laborers. It has a production culture developed over time by men, and if more women are to join its ranks, that culture will need to evolve, including dealing with the crushing hours that are especially difficult if you're the primary caretaker of your kids. Female directors eagerly work those hours.
But the question — especially given concerns over hours and safety — is why anyone, fathers and mothers included, should have to. Clint Eastwood, first among he-men auteurs, is famous for quick, efficient shoots. Anyone who thinks women can't hack it should know the name Jamie Babbit, who was directing a movie right after delivering a baby. (Her next feature, "Fresno," was funded by Gamechanger.)She had tried to hide her pregnancy from her financier, worrying that it might get in the way of the movie. She hoped it looked like she just had a beer belly. The week she was to deliver, the financier told her that their movie was suddenly a go. "O.K., give me three days after I deliver," Ms. Babbit said, "and I'll come." She hired a nanny and directed the movie, pumping milk through the shoot.
Ms. Babbit had a chance and grabbed it, just as any man would, the difference being that she did so with a baby in tow. This isn't 1960, even if the movie industry continues to treat women — film directors and filmgoers alike — as if it were. In 1960, most women worked in the home. Now almost 60 percent of women participate in the labor force, and 40 percent are the sole or primary wage-earners.